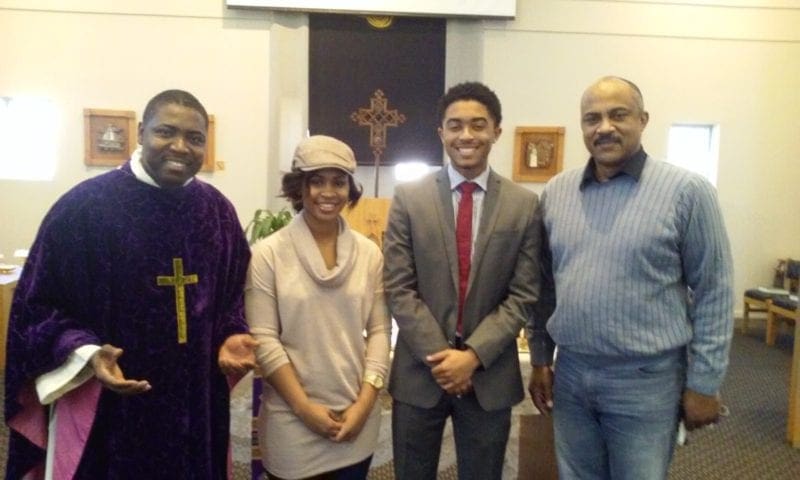 Ministry Assistants have the same ministry as a priest except they are to do it in their world as students and lay people. They are followers of Jesus, doing what Jesus did. They are to hang out where they hang out and be sharing the gospel using words only when necessary. Their work, their ministry, is in the Church and in the world.
The Ministry Assistant Program at Lyke House is designed to prepare students for leadership roles within the Church while they are in school and upon their graduation. As a Lyke House tradition, the Ministry Assistants add tremendously to the life of the universal Church and the local Catholic and AUC communities through their work of bringing the mission of the center to fruition. The roles and responsibilities of Ministry Assistants include, but are not limited to, the following:
Working at Lyke House for a minimum of 15 hours per week and providing hospitality services for guests and students of the center
Nurturing the spiritual development of students at the center as expressed in the Bible, the Catechism of the Catholic Church, and in the Pillars of Campus Ministry
Giving tours of the center to guests and students, which includes having a robust knowledge of the center's artwork and architecture as well as an understanding of the Catholic Black tradition of campus ministry
Creating and distributing Catholic center information (fliers, brochures, promotional items)
Representing the Catholic center at campus related events, functions and activities
Creating and maintaining the center's social media presence, as well as processing email correspondence
Assisting and participating in the execution of all liturgical celebrations at the center
Creating and participating in programs, forums, workshops, community service projects, prayer/retreat experiences sponsored by the center
What To Know About the Ministry Assistant Program
Students for the Ministry Assistant Program …
are chosen at the end of each academic school year and serve during the upcoming academic school year
are chosen at the discretion of the AUC Catholic Chaplain/Director of Lyke House
are chosen to represent and minister for their respective school (Clark Atlanta University, Spelman College and Morehouse College)
must fill out an application and submit it to the AUC Catholic Chaplain/Director of Lyke House
must be a practicing Catholic and a current AUC student
will receive quarterly scholarships for their work and ministry with Lyke House and within the AUC and Archdiocese of Atlanta
Click here for more information about the Ministry Assistant Program or to print out an application.
If you have any questions about the program, please fill out the form below:
[gravityform id="3″ name="Ministry Assistant Program Inquiry" description="false"]